Wow, I never win anything. I have entered Publishers Clearinghouse faithfully for the last 2 years, but no balloon bearing television host has come knocking on my door. I entered the Dreamhome giveaway..... zilch. I never ever, like, EVER win anything.
Which makes this next part even more amazing! You ready? I won something!!
Thank you Kimberly at Mining For Diamonds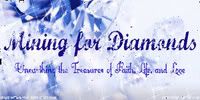 for awarding me with the Versatile Blogger Award. This is a great award that is given to bloggers, by bloggers. So, now that I have won it, I actually get to give it out to others.
Here is what you have to do.
* Tell us 7 things about yourself.
*
Award 15 recently discovered new bloggers.
Contact these bloggers and let them know they've received the award(s)
7 things about me...... huh..... wow....let's go with the faves then.
Fave color: I have always told people it's blue, but I really think it is peachy pink.
Fave thing to do: curl up with a good book. I love Sci-Fi
Fave animal: Domestic-dog, Wild- elephant
Fave food: Mexican... no, Italian.....no Chinese..... I can't pick just one.
Fave sweet: I love Mike & Ike's
Fave tv Show: tough one..... Survivor, baby!
Fave music: I really love Kari Jobe
These are a few of my fav-o-rite things.
15 recently discovered blogs Of course I love Mining For Diamonds by Kimberly!
1. Rachel The Lazy Christian
2. Mary Kathryn Beauty For Ashes
3. Mike

A Heart For God
4. Jenny Covered In His Dust
5. Christin Joyful Mothering
6. Kevin Wake Up My Faith
7. Richard Prodigal Returns
8. Ben

Life And Theology
9. Lisa This Little Light Of Mine
10. Stephanie Uplifting Words
11. Becky This I Know
12. Cherie Heart And Soul
13. MaryBeth Let It Grow
14. John John Threesixteen
15.Ken Following Jesus